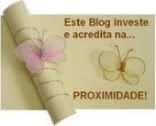 I received this reward from Screaming Mimi...Thanks so much Pam!! Like her I enjoy the blogs with depth in them. This is what she had to say:
I really like this award because of the way it says that these bloggers are not interested in lots of prizes, awards, etc.
I have been to some blogs, where the only goal seems to be snatching blog awards anywhere they can find them, whether they have been given these awards or not. The blogs I love are ones that I can relate to. The ones that deal with lifes joys, pitfalls & surprises with grace and laughter.The award states:"This blog invests and believes the PROXIMITY - nearness in space, time and relationships!These blogs are exceedingly charming. These kind bloggers aim to find and be friends. They are not interested in prizes or self-aggrandizement. Our hope is that when the ribbons of these prizes are cut, even more friendships are propagated. Please give more attention to these writers! Deliver this award to eight bloggers who must choose eight more and include this cleverly-written text into the body of their award."
I don't have eight I can send this to as Pam has already done so from those that I know. I do however have one more person and that is Aubrey at The Dogghouse!. She is my cousin and I love her blog. I love how she shares herself spiritually. Love ya Aubrey!